[smart_track_player url="http://traffic.libsyn.com/midlifetribe/Why_I_work_from_home_-_065.mp3″ background="#f2f2f2″ social_gplus="false" social_linkedin="true" social_email="true" ]
My corporate life began in 1984 at the age of sixteen. Standing at the corner of Bourke and Elizabeth in downtown Melbourne, I tilted back to take in all forty-one floors of the Commonwealth Bank headquarters and reminded myself that this was what I'd wanted.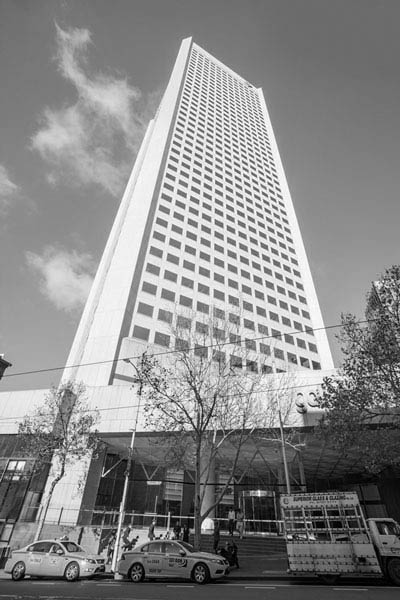 As a young man on my first solo visit to the big city, I felt like a lamb thrown into a paddock full of foxes; nervous about what lay ahead.
Sporting a cheap suit and ill-fitting shoes, I entered the foyer of the concrete edifice and made my way into one of the lifts. The din of the city fell away as I climbed twenty-one floors, arriving into what felt like the quietest office in the world.
The receptionist recognised me as one of 'the new ones', and motioned me towards the waiting area. No one spoke. Everyone looked serious, important, and much smarter than me. I began to sweat in my polyester shirt and feelings of dread and overwhelm consumed me.
Immediately, I knew this wasn't the place for me.
It took almost three years for me to leave that job – a place that appealed to my mathematical brain, but left the rest of me anxious and starved of oxygen.
My saviour came in the form of a call from an art director named Joe. A creative powerhouse and spotter of talent, he'd noticed my third-ever freelance article about to be published in the magazine he was redesigning. What followed was three weeks of sincere lobbying on his part to get me out of banking and into the place I belonged – the media; specifically, as a photographer.
I'll be grateful to Joe till the day I die, for it was his persistence that gave me a life that many wish for but few achieve. I got paid to do what I love.
For seven years, I lived a thousand adventures. I travelled the country in cars, jets and helicopters. I drove my first Lamborghini before my 19th birthday; received driving tuition from a Formula-1 champion; stayed in presidential suites, and met many of my heroes. Most of all, I got to photograph some of the most exciting cars of the 80's and 90's, like the first NSX, the Diablo, the R32 Godzilla, the E34 M5 and the F40 Ferrari. It was heaven.
I'm lucky Joe believed in me, but it's taken me 30 years to realise what he really gave me. It's stared me in the face at every step and it's guided me through each career change – through every successful pivot. It's the courage to back myself; to admit I'll never know everything, but that I'm ready to do this thing that terrifies me.
Thanks to my parents, I had the seeds of belief from a very young age, but Joe proved I could take it further and higher. He demonstrated through his own life that I needn't depend on one master to define my place in this world. I could chart my own course, define my own status and carve out a niche of my own fashioning.
It wouldn't come without a lot of hard work and dedication to my craft, but I could eventually make six or seven figures from home and keep a black Ferrari in a pink marble garage if that was my thing – as was his. Being around Joe shifted my thinking way outside the box my previous employer had constructed, and it proved to me for the first time, the power a mentor can have on your life's trajectory.
All of which brings me to you.
There's more to life than a desk and a screen.
You mightn't have had a champion like Joe in your corner, but you know there's got to be more to life than clocking on each day at the office, getting your salary and paying bills. You ache for more than that.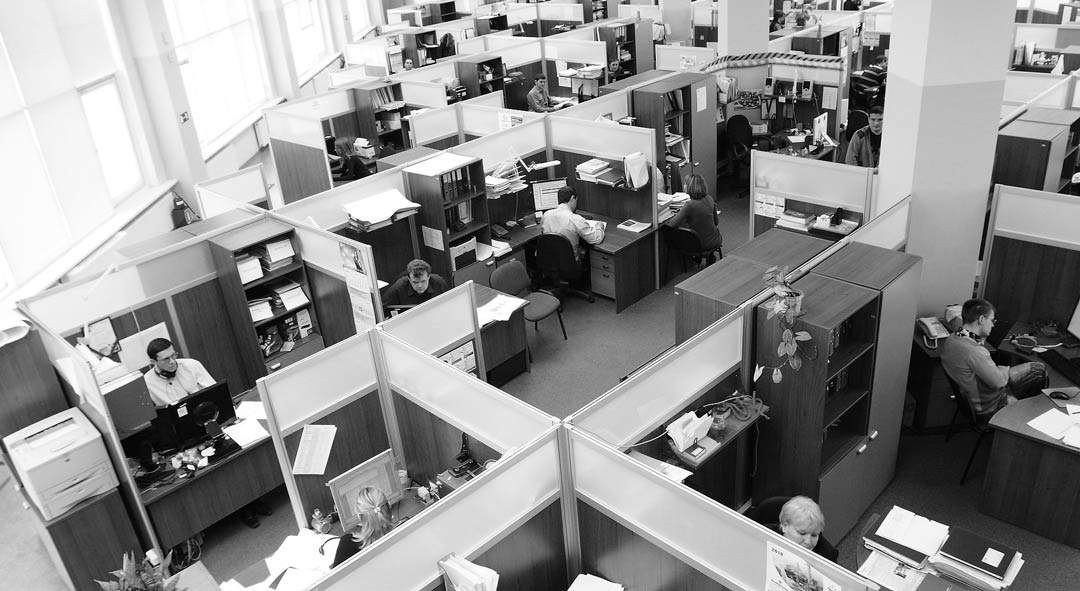 You long for more freedom; a little more agency over your time – specifically how, where and with whom you spend it. You want to see your kids more, to get to know your partner again, to walk in the sunshine and breathe the free air. But you feel trapped in your job.
You've toyed with quitting your job and starting your own thing. You've dabbled in side-hustles. Perhaps you've tried selling stuff you don't believe in and felt dirty afterwards. I've done all three.
It's true that the Internet makes it easier than ever to reinvent yourself, but there's a lot of noise out there. The elimination of barriers and boundaries also means we're all tiny needles in the world's largest haystack. Standing out is harder than ever. These days – notwithstanding the occasional unicorn – making a dent in the universe demands an honest commitment to playing the long game, and for many, that's just a bridge too far.
It all sounds rather daunting and disheartening. Until you realise that doing your own thing or creating a successful side-gig needn't be your first step.
There is an in-between step that can change your life much faster.
Ten years ago, it was tough to do; twenty years ago it was all but impossible. Today, it's done by millions – myself included. It's called many things:
Agile work
Telecommuting or teleworking
Outwork
Remote working
Location-independence
Working from home
Flexible work arrangements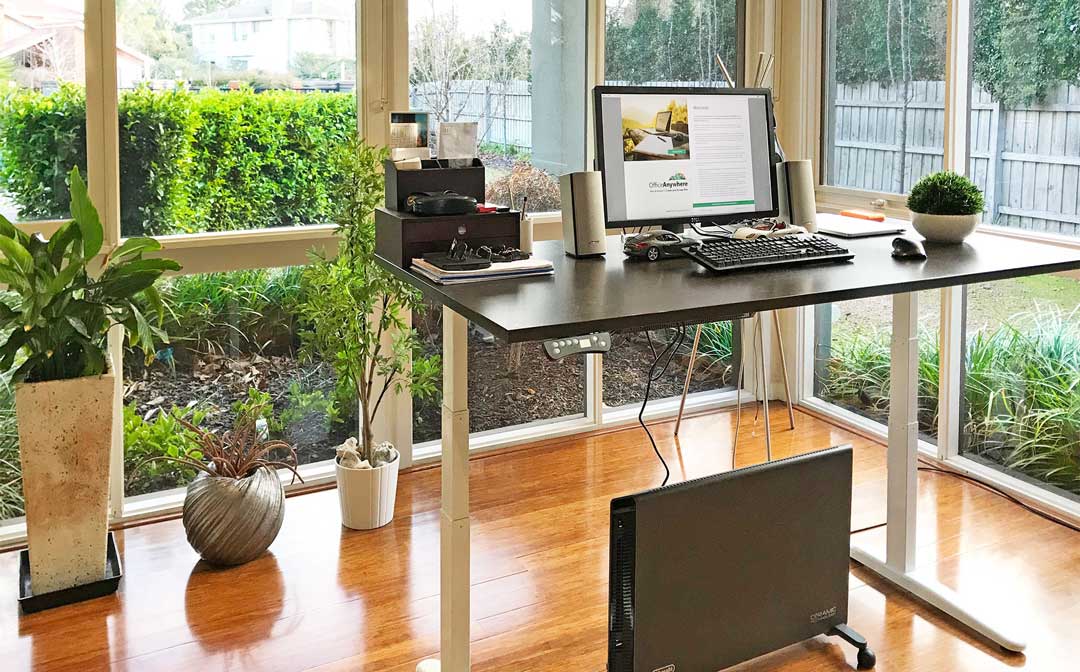 I call it 'working anywhere', and I believe it's the gateway to long-term happiness and fulfilment.
Overblown? Not at all. I've 'worked from anywhere' for around 15 years – mostly at home (above), but hundreds of other locations, too, including the remote desert town of Noccundra (population: 4 – see below). Quick diversion: Noccundra is so remote, there isn't another building near it for 300 km in any direction. I flew in by chopper to meet up with a thousand others in the original Australian Safari desert race from Sydney to Darwin.
Such was the technology back then, we had a truck with a satellite dish meet us at each overnight stop, just so we could transmit our images and words to media outlets around the country.

This one thing – this ability to work where, when and how I want is the most transformative work/life decision I ever made. It alone has delivered more positive side effects in my life than anything else, short of having children. I'm more productive, more creative, less stressed and less distracted.
I walk my son to school, see my wife more, save money, and I can work in a way that delivers high levels of productivity and satisfaction. I also save over 500 hours a year just by eliminating the daily commute. That's thirteen working weeks!
I don't have time.
We lament a lack of time to enjoy our families, our communities and our passions. What could you do with an extra thirteen weeks a year? Or even five? What would it mean to have breakfast with your kids every morning, to start work at 6:00 am in your smelly bedclothes if you felt like it, or to shower at midday?
What would it do for your creative spark if, instead of writing software in a cubicle, you took your laptop to a lakeside park and sat with the sun at your back? How much better could you serve your customers or sell your services if you made all your calls from a quiet home office rather than your fluoro-lit tower in the city with a dozen other people on their phones?
I'll concede, this way of working isn't right for everyone. Indeed, it isn't possible for everyone due to the nature of their job. But for those whose output isn't determined by their physical location, it can be a life-changer. It can turn the lights back on and awaken the creative spirit.
It can give you a real life.
Working from home isn't about geography.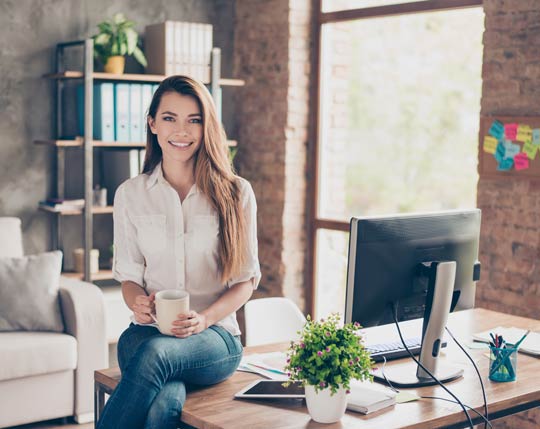 Working in an environment that suits you is about uncovering and then amplifying what you have to offer. Our highly structured work environment is a hangover from the industrial revolution, where everyone, regardless of profession, is a factory worker. A cog in a machine; paid to show up and stamp out widgets, and accept their status based on KPIs and earnings alone.
Smart companies have proven this no longer services. The game has changed. Hiring people who pander to management's criterion of showing up on time and learning corporate-speak doesn't always deliver. Often, it stifles free thinking and fosters mediocrity, creating a league of box-tickers and inside-the-box thinkers. The disrupters, the rain-makers and the risk-takers are the ones who've figured out that the best people don't work like cogs in a machine. Their thinking isn't linear. It isn't constrained by maxims like, "Well, girl, this is how we've always done things, here."
The old worker values things like a job title (preferably with 'VP' in it), a corner office, a leased Mercedes, and the envy of her peers. The new worker values autonomy, the freedom to think creatively, and a work environment that fits her.
Most people who work remotely are also happier, more loyal and deliver higher levels of productivity.
There are challenges, yes, but the payoff for employees and employers is significant. I created Office Anywhere to help employees transition to 'working anywhere', and to provide the strategies, tactics and inspiration to do it successfully. Because once you have more control over how, where and when you work, the opportunities to spread your wings multiply!
The Facts in Figures
Most of us don't need convincing, but for the sceptical among us, I'll let the numbers do the talking. The data below comes from more than 4,000 studies, reports and articles about telecommuting. They are thanks to the valuable work of Kate Lister and Tom Harnish of Global Workplace Analytics – a research and consulting firm that references more than 5,000 data points to deliver meaningful intelligence on the changing nature of work.
Employee Satisfaction
Two-thirds of people want to work from home, and 36% would choose it over a pay rise.
A poll of 1,500 technology professionals revealed that 37% would take a pay cut of 10% if they could work from home.
Gen-Y'ers are more difficult to recruit (as reported by 56% of hiring managers) and to retain (as reported by 64% of hiring managers), but they are particularly attracted to flexible work arrangements (rating among benefits as an 8 on a 10 scale for impact on overall job satisfaction).
Over 70% of employees report that the ability to telecommute will be 'somewhat to extremely important' in choosing their next job.
Staff Attrition
Losing an employee, then hiring, recruiting and training a new hire costs thousands.
14% of Americans have changed jobs to shorten the commute.
46% of companies that allow telework say it has reduced attrition.
95% of employers say telework has a high impact on employee retention.
80% of employees cite the cost of commuting to work.
Two-thirds of employees would take another job to ease the commute.
Unscheduled Absences
78% of employees who call in sick, really aren't. They do so because of family issues, personal needs, and stress.
Unscheduled absences cost employers $1,800/employee/year
Organizations that implemented telework, had a 63% reduction in unscheduled absences.
Teleworkers typically continue to work when they're sick (without infecting others).
Teleworkers return to work more quickly following surgery or medical issues.
Flexible hours allow teleworkers to run errands or schedule appointments without losing a full day.
Productivity
Teleworkers are 35-40% more productive according to Best Buy, British Telecom, Dow Chemical, and many others.
Over 65% of employers report increased productivity among their telecommuters.
JD Edwards teleworkers are 20-25% more productive than their office counterparts.
American Express workers produced 43% more than their office-based counterparts.
Remote workforces people to be more independent and self-directed.
Drucker, Six Sigma, and management experts agree that goal setting and performance measurement is key to successful management.
For telework to work, employees must be measured by what they do, not where or how they do it.
Employer Cost Savings
Nearly 60% of employers identify cost savings as a significant benefit to telecommuting.
Alpine Access Remote Agents close 30% more sales than traditional agents the year before. Customer complaints decreased by 90%. And turnover decreased by 88%.
IBM slashed real estate costs by $50 million.
Nortel estimates that they save $100,000 per employee they don't have to relocate.
Average real estate savings with full-time telework is $10,000/employee/year.
Dow Chemical and Nortel save over 30% on non-real estate costs.
Sun Microsystems saves $68 million a year in real estate costs.
Telework offers inexpensive compliance with ADA for disabled workers.
Meetings & Collaboration
Asynchronous communications allow people to communicate more efficiently.
Web-based meetings are better-planned and more apt to stay on message.
Once telework technologies are in place, employees and contractors can work together without logistical issues, substantially increasing collaboration options.
Traffic & Commuting
If traffic continues to grow at the current pace, over the next couple of decades, commutes will take almost twice as long and you'll have to leave even earlier to allow for traffic jams.
Every 1% reduction in vehicles yields a three-fold decrease in congestion.
Half-time telework, for the portion of the population that holds telework-compatible jobs and wants to work from home, would save thousands of lives and billions a year in direct and indirect costs associated with traffic accidents.
Where to from here?
Over the course of your life, you'll spend around 35% of your waking hours at work – not including commuting. And if you're like 85% of workers, you don't have any passion for your job. That's a hell of a long time to be unsatisfied.
Why is this model acceptable? What will you receive at the end of it all – if you survive till that end? What makes you work in a way that doesn't serve your life? How valid are those reasons? Why are you actually here…?
These are simple questions, and I know the answers are difficult to discuss, let alone reconcile. But you need to ask them. Your greatest joys in life come from how you spend your days, not how you spend your money – from what you do; not what you get.
I believe that when it comes to your work, the options are simple:
Do the work you love and get paid for it, and/or
Do the work you need to do to pay the bills, but do it in a way that fits your life, and/or
Do the work you need to do to pay the bills, but do something else on the side to balance it out.
Ideally, you'd do the work you love to do and get paid for it, AND do it where, when and how you want. That's the ultimate. In fact, you'd not really be working at all, but getting paid to pursue your passion.
Many of us can reach this point by employing options two and three. Option two frees up wasted time to enjoy your life more and to get more creative and effective in your current role. It also delivers the flexibility you need to explore option three – a little something on the side.
In time, option three can lead to your version of nirvana – getting paid to do what you love, in a way that brings joy and fulfilment to your life.