[smart_track_player url="http://traffic.libsyn.com/midlifetribe/A_25_Year_Olds_Dream_Versus_Todays_Reality_-_076.mp3″ background="#f2f2f2″ social_gplus="false" social_linkedin="true" social_email="true" ]
I'm embarrassed to admit it, but I used to belong to one of those MLM things. Thinking about it now makes me cringe; the rallies (I always hated that term), and their 80's motivational music washing over a deluded, hopeful crowd. Most were like first-timers at an evangelical church – all smiles, but no clue what they were about to see. I was one of them, except my smile was real because I instantly thought this was going to work; I was going to be rich!
Unfortunately, reality proffered a different outcome. The products were crap, the dozens of nights I spent doing demos in peoples' lounge rooms, coaching my 'downline' and attending events brought me no closer to the goal of sipping Mai Tais on a beach for the rest of my life. My girlfriend thought I was an idiot (she was right), and in the end, the wagon I'd hitched my ride to went bust – destroying the few who actually had made a dollar. Omegatrend was its name, may it rest in peace.
Seeds Planted Still Bore Fruit
Not all was lost, though. That strangely exciting period – at least in the early days – yielded a few life-changing wins. First, it exposed me to literature I'd probably never have discovered on my own. Books like The Magic of Thinking Big, The Road Less Travelled, Think and Grow Rich and Psycho-Cybernetics; and everything by Og Mandino and Tony Robbins opened my eyes and raised the bar.
It also proved that when you're excited about your future, sleep is optional. For about a year, I was so excited about the possibilities of a future unencumbered by a job, I couldn't nod off before 3:00 am. I didn't want to – I just wanted to make it all happen yesterday.
Fatigue, I learned, is as much a symptom of an uncertain/unpleasant future as lack of sleep; perhaps more so. Our energy levels and our happiness can be transformed the moment we have something to look forward to. When we realise we can pull a lever here and turn a dial there – and things change – that' the moment our lives change.
Which leads me to this guilty pleasure of mine – watching other people rush off to work.
That was the dream back in my MLM days. The precious few who'd manage to quit their J.O.B. (Journey or Boredom) would get on stage and regale us with their BIG DAY. Each story was the same: a stretch limo rolling up to the lucky bastard's office, champagne held aloft by a beaming spouse, and a small gathering of envious workers watching an ex-colleague glide away in a flurry of unbridled smugness and joy.
Once home, the newly minted freedom-lovers would then begin a daily ritual of sitting by their front window to watch their poor, doubting neighbours go to work. It sounded delicious and I wanted it.
Well, despite my abject failure as a multi-level marketer, I'm happy to report that the scene I've just described is every bit as delightful as it sounds. Watching everyone rush to work is one of my most prized pleasures, and it's something I get to witness every weekday. The irony is, I'm usually up at 5:30 anyway, so it's not like I sleep till noon. Back in the MLM days, I couldn't sleep because I was so excited about the future. Now, I can't sleep beyond six for the same reason.
The neighbourhood exodus begins at around 7:00 am when cars across the street and next door to us roar into life and burst out of their driveways. At 8:30, I walk my son to school, which is conveniently positioned at the end of our street. There's always the same collection of hyper-busy mothers and a smattering of fathers in office attire who thrust their kids through the gate and trot hurriedly back to their vehicles. The only ones walking slowly are the grandparents, a retired property investor named Ellio, and me.
Keep the Mai Tais
This daily ritual is a form of culturally ingrained insanity, and I'm grateful beyond measure that I'm no longer part of it. But what did it take for me to escape it all?
That's a long story, but the short version is I made a decision that walking my son to school was more valuable than a job with a fancy office and the word 'National' in my title. The funny thing is, I now have a gorgeous corner office at home with floor-to-ceiling glass on two sides, lots of plants, awesome speakers on my desk, and no distractions. You could triple my income and I still wouldn't give it up, even if you added 'VP' to my card.
Something else I've developed a liking for, and it feels a little rebellious, is walking out of the school gate and then turning left – away from my house – instead of right. It's like saying, "Yes, I know the CEO is waiting in the conference room, but I need to do 2,000 steps in the park first." I struggle not to smile every time I do it.
I rank it up there with showering at midday.
Three decades ago, I saw MLM as my ticket to freedom. Today, thanks to the Internet, mobile computing and clever software, you can still achieve the dream, but do it without joining someone's downline. You need a solid plan, though, and the right tools and practices to make it work, but the payoff is huge. In many cases, you can do it with the job you have right now.
The best thing is, you needn't change who you are or how you show up in the world. If anything, you get to be a more authentic version of you. And with your new freedom, you can augment your life with new and potentially lucrative opportunities. Over time, these can bolster your security and even replace your current job. Compared to my dreams as a twenty-five-year-old, today's reality is better in every way. Most importantly, the kind of life I sought back then is also a lot more achievable, and there's effectively no limit to what's possible.
For me, I know that ten years from now, my son won't remember the projects I worked on, but I guarantee he'll remember all those times we walked to school together. And so will I.

.
Affiliate Notice: If I recommend something to you (e.g. a book, software, a physical product, etc.), it's because I've bought it, used it and benefited from it. Yes, I might get a small affiliate commission if you buy it, but it won't cost you any extra. Besides, you don't have to buy it through me, and if you don't think it'll help you, then don't buy it from anywhere.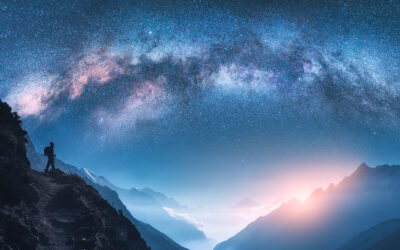 Yesterday, a giant in my life called up to offer his final farewell. Today, he married his true love, Aurelia, before entering palliative care. He's only 64, he's athletic, and he's stronger than most 30-year-olds. But when cancer takes hold, it doesn't care. Jonathon...